Fast Beam system components
Modular and adjustable design suited for decks and projects.
The two main components of Fast Beam
Fast Beam consists of two main components:
The hangers and platforms are individual, but also connected. This allows for flexibility both vertically and horizontally, meaning Fast Beam can be installed without issues on curved decks.
The system is designed with simplicity in mind, there are few moving parts and the base system installation as well as any add-ons feature plug and play functionality.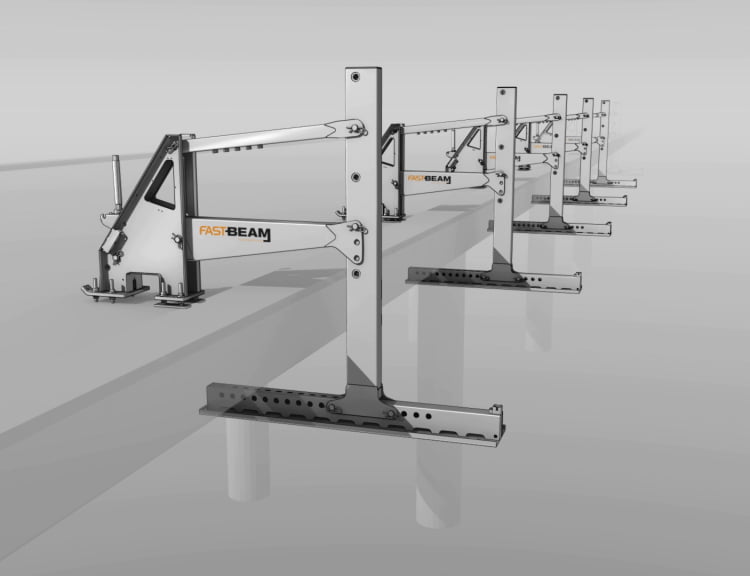 The hanger is anchored to the deck, installed parallel to the deck edge. The installation does not require specialized tools, and the provided templates for pre-installation tasks speed up the process significantly.
Dismantling is similarly an effective process, and the patching methods and adhesives used are the same ones that are used in tensile testing. Hence, there is no harm done to the structure or waterproofing.
The working platforms are attached to hanger pairs with safety railings pre-installed. This way your worksite remains safe throughout the entire process.
The mounting gutters provide sufficient give to ensure that individual hangers and platforms retain their vertical adjustability. The platforms can be protected and covered, making debris and wastewater collection efficient and sustainable.
The hydraulic unit is compact, simple and highly mobile. Each hanger is adjusted individually, and one hydraulic unit is usually sufficient for most projects.
Preparations, installation and required tools
Preparations, installation and dismantling is easy, and it does not require specialized tools.
See our videos below where we present the various processes and tools involved in the preparation and installation tasks.
Preparations and
measurements
Installation of hangers and working platforms
Adjustable working platforms
Ensure that your crews work is ergonomic, efficient and safe. Variable vertical adjustment range approx. one meter, and lateral adjustability of the system enables installation on curved decks.
Fast Beam is developed with its users. The working position is ideal for the work flow, and this way users can perform their tasks more efficiently and comfortably.
Good castings and formwork capabilities
Easy to use supports for formwork, hydraulic adjustment to and from the working position. Improves work efficiency and ergonomics.
The Fast Beam scaffolding system itself does not generate waste. The system components are all reusable and have a long lifespan.
To extend the capabilities of the Fast Beam system, we offer additional components for increased reach, as well as our automatic hydrodemolition line for hydrodemolition.
Fast Beam offers modular options when your project requires additional reach or features. Our system is designed to suit any deck, edge and wall. The system can be protected and waterproofed, enabling ecological recovery of debris and wastewater.
Gain extra height to reach over various obstacles, also provides the extra height needed for hydrodemolition.
Increase the reachability to max ~2,9 meters (300 mm intervals). Can be used for deck widenings and castings close to the deck edge.
See our technical system presentation video below
Technical presentation of Fast Beam
Fast Beam makes demolition efficient, no matter the method. The system can be protected and secured for debris and wastewater recovery.
The system can also be fitted with an integrated automatic hydrodemolition line.
Protected and waterproofed
The working platforms can be protected and secured with metal plates, rubber mats and plastic coverings, meaning that debris and wastewater is recovered and there is no spill-over into the environment. The entire system is also enveloped in protective netting to protect the surrounding areas. The wastewater flow can be controlled by adjusting the hydraulic platforms, enabling efficient and responsible wastewater collection.
The plug and play automatic hydrodemolition line is fast, up to 10 meters progression per hour for parapet removal, and up to 25 meters per hour in skimming.
See our automatic hydro­demolition line in action below
Fast Beam automatic hydrodemolition line
Fast Beam is a perfect fit for any deck. As the system is fixed to the deck itself, there is no need for cumbersome constructions on the ground.
The entire system can easily be grounded, so e.g. projects on decks above railway lines can be done in a fast, safe and efficient manner.
Over 100 completed projects all over Europe
Highlight projects and customers
Fast Beam your next project