Supercharge your deck operations and maintenance with Fast Beam
Up to two times faster, even half less workforce
The next generation of deck operations
Fast Beam is a floating platform system, fixed entirely on the deck. This way the system is not affected by the surroundings. Fast Beam is applicable on any deck, edge or wall.
Fast Beam saves time and money at every step of the process.
Planning, installation, operation and dismantling is completed up to two times faster than with conventional methods, with even half the workforce.
The increased efficiency is amplified in complex projects. Locations requiring specialized work, e.g. hydrodemolition or grounding are well-suited for Fast Beam via direct plug and play integrations.
Unique features delivered with efficiency
Fast Beam is designed to be the cornerstone of your deck operations and maintenance.
The system is extremely easy to install, operate and dismantle.
Fast Beam is designed and developed with simplicity in mind. This way all the connected processes are faster, and much more efficient.
The installation and dismantling process is very fast on any deck, up to 100 meters per day with an experienced crew.
The variably adjustable working platforms enables an always ergonomic and efficient workspace for your crews, boosting work efficiency.
Thanks to its compact size and easy installation, Fast Beam requires much smaller installation crews, meaning you can complete more projects with less work force.
Fast Beam doesn't require static calculations for each site due to its tested standard stability matrix for static loads.
Fast Beam is not only easy to use, but also easy to learn, teach and deploy within organizations.
Fast Beam has the easiest installation and dismantling process on the market.
Fast Beam is easy to learn and easy to teach. The introduction and onboarding within organizations is very fast.
Smooth Fast Beam operations do not require separate qualifications. Our processes are simple, yet efficient.
The use of Fast Beam becomes an easily reproducible industrial process, regardless of project. Rinse and repeat.
With simplicity comes safety. All processes are safe by design, from installation to operation, all the way to dismantling.
All work is performed from the safety area, always. Living on the edge has never been this safe.
In the installation process, the safety fences are pre-mounted to the platforms.
As the platforms are all individually adjustable, crews can always ensure an ergonomic and therefore safe workspace.
The processes are very repetitive, no matter the project. This way you will increase safety and security at work.
Fast Beam provides both direct and indirect positive environmental effects. The system itself is resource efficient, and it actively minimizes the overall carbon footprint of operations.
The Fast Beam system has a very long lifespan, and 95 % of its steel is recycled. The system itself does not generate construction waste.
The system is compact and lightweight, leading to much smaller transport equipment. As you only work on and from the deck, surroundings do not affect the system.
With Fast Beam, you are able to responsibly recover debris and wastewater with ease. Nothing spills out into the environment.
Fast Beam has the smallest carbon footprint on the market, compared to regular solutions. This gives you a competitive edge and future-proofs your operations.
Over 100 Fast Beam success stories
Fast Beam is tested, secure and certified. Patented around the world, the Fast Beam system has received the Highways England Blue Star award.
Experienced crews install up to 100 meters per day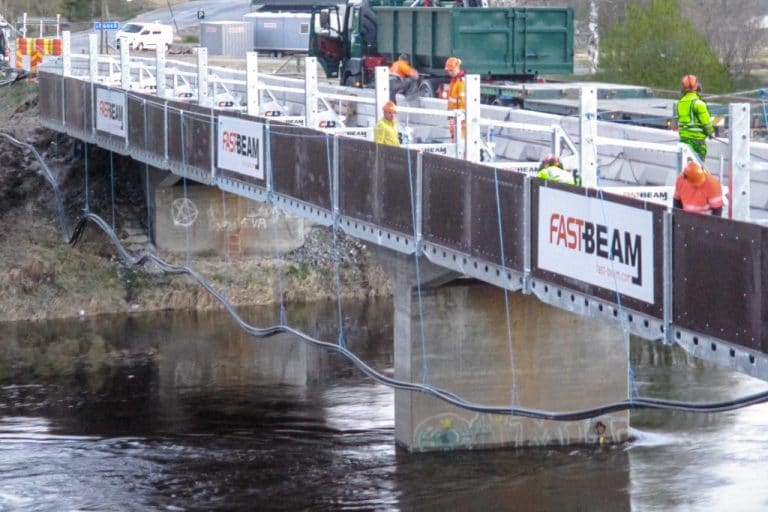 Perfect for parapet rehab, castings and reinforcements
Applies to curved and damaged decks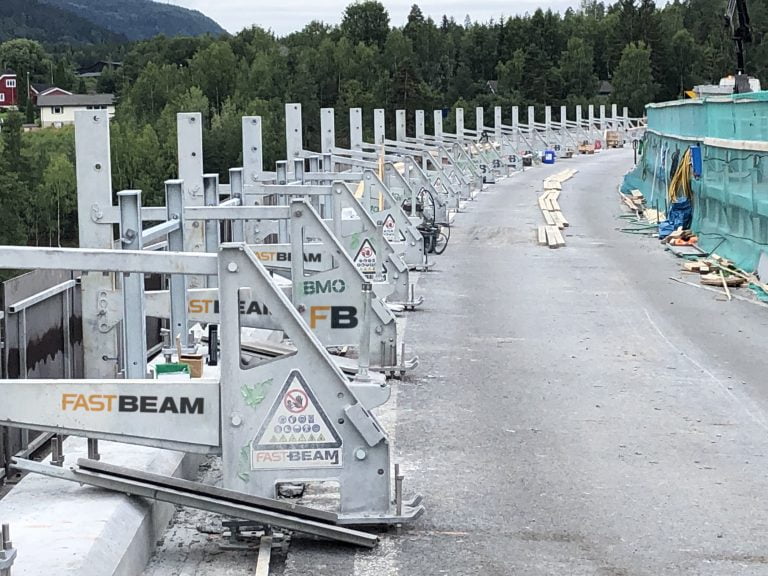 Ideal for projects on docks and jetties
Integrated automated hydrodemolition line for efficient and sustainable demolition
Over 100 completed projects all over Europe
Highlight projects and customers
Fast Beam your next project